This post may have affiliate links, which means I may receive commissions if you choose to purchase through links I provide (at no extra cost to you). Thank you for supporting the work I put into this site!. Read my full disclosure here.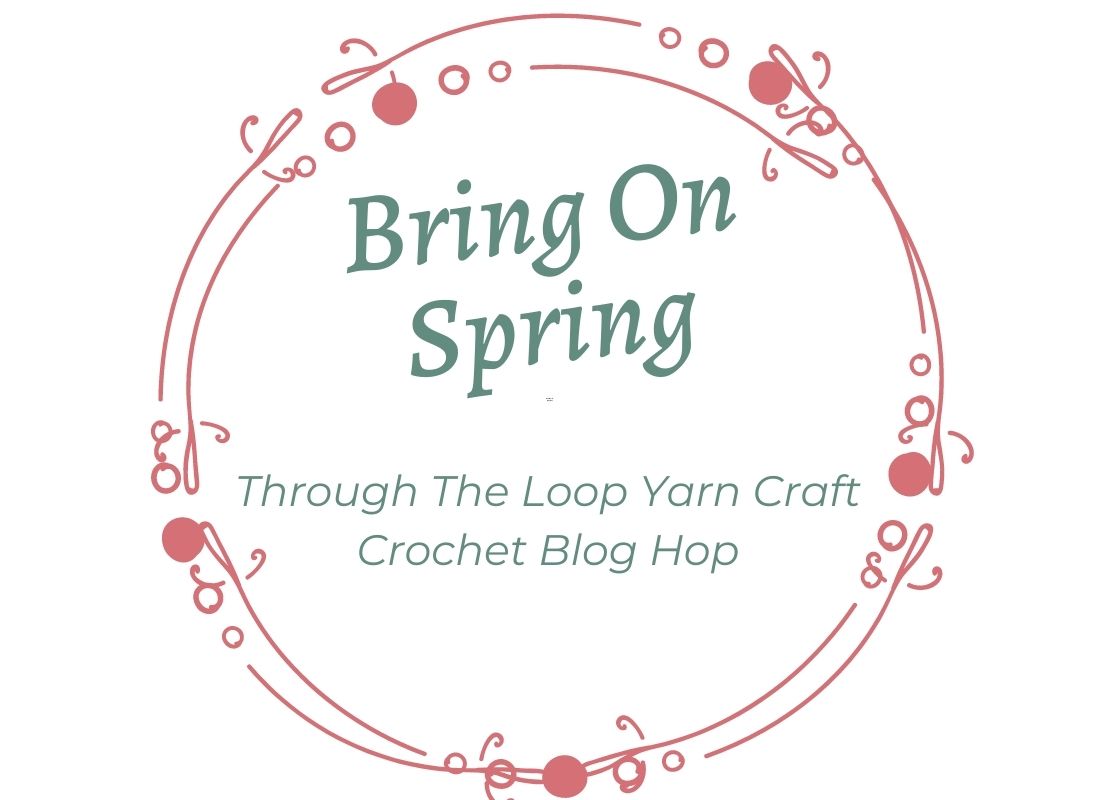 Bring On Spring Blog Hop – 29 Free Crochet Patterns
Who's ready to prepare for Spring!! By the time we hit February I am always ready for some warm days and sun rays! Living on Vancouver Island in rain forest area can make for a long, dreary winter, so lets Bring On Spring!
To help get ready for Spring this year, I decided to host, for the very first time, the Bring on Spring Blog hop…. the perfect event to help you get ready for Spring!
29 Free Crochet Patterns
Myself and 28 other designer pals have collaborated to bring you 29 days of Spring themed crochet patterns!
If you're ready to shake off the winter blues and are looking forward to some warmer weather and brighter days, the Bring On Spring Blog Hop will be perfect for you!
There is a great variety of patterns, including amigurumi, garments, bags, accessories and so much more!
How It Works
The Bring On Spring Blog Hop will run from February 1 – March 1, 2021
Each day a new design will be featured. The PDF copy of the featured design each day will be FREE for 24 hours from 6:00AM PST to 6:00AM PST.
Each day I'll be sharing a photo of the pattern, along with the coupon code and the link to the designer's blog post about the pattern or their Ravelry page. You'll scroll down on this page until you see today's pattern. If you're directed to their blog post, they'll have a button within their blog post that says "Click here to download." That will take you to the Ravelry page for the pattern, and then you can use the coupon code in your cart to get it for FREE!
Here is what the button looks like that you will find on the designers page:
The Blog Hop is set up like a daily scavenger hunt! This is a great way to learn about different designers and crochet bloggers! By visiting each of our blogs, it helps us gain exposure, generate page views, and ultimately helps us continue to bring you amazing free patterns and content! We love sharing freebies with you, and each visit to a designers page is showing support for our fabulous designers and crochet community!
Don't Miss A Pattern!
Want to be sure to get in on the daily emails so you are notified when each new design is available?! Sign up and I'll send out a daily email letting you know the next one is available!
Featured Designs
February 1
Day 1 feature is the Dockside Bag by Me!
You can find the free web version HERE
February 2
Day 2 feature is the Cozy Cool Weather Wrap By Crochets By Trista; A light weight wrap perfect for spring!
You can find the links to purchase this pattern HERE
February 3
Day 3 feature is the Team Spirit Headband By Remington Lane Crochet; Show off your team spirit with a fun headband! Perfect for a Super Bowl party or March Madness!
You can find the free web version HERE!
February 4
Day 4 feature is the Summer Wrap By Carroway Crochet; A summery wrap made with the sedge stitch. It is a light and airy wrap for spring or summer days!
You can find the free web version HERE!
February 5
Day 5 feature is the Spring Breeze (no fall) Shawl By Straight Hooked; The shawl with "sleeves" to keep your gorgeous wrap from hitting the ground if is slides off your shoulders! Perfect for Spring or Summer days! You can purchase this pattern HERE

February 6
Day 6 feature is the Shoreline Sweater By Blue Star Crochet; A wonderfully light sweater for the warmer weather!
You can find the free web version HERE
February 7
Day 7 feature is the Self Care Set By BeeOutrageous; Spring self care set: body facial wash pads plus whimsical cache container
You can purchase the pattern HERE
February 8
Day 8 feature is the Kelsi Clutch By A Plush Pineapple; Crochet a beautiful, stylish wristlet that features unique diagonal ribbing and color-blocked design with this free crochet clutch bag pattern!
You can find the free web version HERE
February 9
Day 9 feature is the Spring Blossom Bracelet By The Crafty Therapist; A pretty flower bracelet that is easy to make and fastens with a simple button closure. It will make a perfect gift or to wear yourself.
Find the free web version HERE
February 10
Day 10 feature is the Sandy Crossbody Tote By One Little Hook; The perfect on-the-go stylish tote! Toss in basic essentials like keys, wallet, sunglasses, and water bottle. Then, hit the road in style.
Find the free web version HERE
February 11
Day 11 feature are the Fingerless Mitts By Ned & Mimi; These cute fingerless gloves are a perfect accessories for fresh Spring days, when temps may still be a little unpredictable!
Find the free web version HERE
February 12
Day 12 feature is the Spiked Stitch Basket By Jen Hayes Creations; The Spiked Stitch Basket can be made with or without the handle making it the perfect basket for organizing home and office supplies or gathering eggs and flowers and Easter time.
Find the free web version HERE
February 13
Day 13 feature is the Marian Bay Bag By Me n My Hook; Easy beginner crochet bag pattern, made in the round with lots of texture.
Find more info HERE
February 14
Day 14 feature is the Rose Bouquet By The Loophole Fox; Crochet beautiful long stem roses that don't wilt using scrap yarn. Spritz with perfume for scent and you're all set.
Find the free web version HERE
February 15
Day 15 feature is the Triple Vee Scarf by Jo's Crafty Hook; This is an airy scarf that would be great for any type of weather!
Find the free web version HERE
February 16
Day 16 feature is Betty The Bee by Octopus Crochet; This cute bee gets very active when Spring comes, making sure all flowers in the area are well taken care of! A fun ami to make and customize! Find the free web version HERE
February 17
Day 17 feature is the Black Raspberry Baby Sweater by Ambassador Crochet; The Black Raspberry baby sweater is great for keeping baby warm on those cool spring days. Find the free web version HERE
February 18
Day 18 feature is the Little Lady Ladybug by Pine Tree Crochet; Ladybug, or Ladybird? Crochet this cute Little Lady and say Hello to spring! Find the free web version HERE
February 19
Day 19 feature is the Laxus Cocoon Cardigan by Joy Of Motion Crochet; A super easy crochet pattern & it's designed with the beginner in mind. First garment? No problem! This is easy & quick too. FInd the free web version HERE
February 20
Day 20 feature is the Flower Power Pillow by This Pixie Creates; Crochet this beautiful Boho-inspired circular pillow. It uses a variety of stitches to keep things interesting as you crochet, and the end result is gorgeous. Find the free web version HERE.
February 21
Day 21 feature is the Tunisian Lightening Shawl by Raffamusa Designs;
This Lightning is the easies and most fun Tunisian crochet shawl ever! Mostly done with the Tunisian crochet full stitch, I can tell you there is no reason to be afraid of increases and decreases…because they're fake! Find out how to build this interesting shawl. You can find the free web version HERE
February 22
Day 22 feature is the Sea Breeze Infinity Scarf by Made By Gootie; Textured infinity scarf, made with a DK yarn is a perfect accessory for the upcoming spring. Find the free web version HERE
February 23
Day 23 feature is the Rainbow Bee by Morine's Shop; Rainbow Bee is a free crochet bee amigurumi pattern perfect for spring. It uses a combination of stitches to achieve beautiful colourwork through most of the body which makes the bee look like it's wearing a sweater. Find the free web version HERE
February 24
Day 24 feature is the Light As Air Cowl by Three Fates Creations; The mesh stitch is used to make a lacy scarf-like cowl, perfect for spring. Find the free web version HERE
February 25
Day 25 feature is the Milan Wrap by Country Willow Designs; The Milan Summer Wrap is practical and comfortable. This would make a beautiful Mother's Day Present. Find the free web version HERE
February 26
Day 26 feature is the Kate Basket by Sunflower Cottage Crochet; A gorgeous basket for around the home or to use to create a gift basket for someone special! Works up quickly in #6 or #7 weight yarn and 12 or 15mm hook!. Find the free web version HERE.
February 27
Day 27 feature is the Hallie Tote by A Knotty Habit Designs; An around town tote! Pack your essentials and enjoy your day out. Find the free web version HERE
February 28
Day 28 feature is the Konfótab Tank Top by Desamour Designs; Konfòtab is a pattern I created using tunisian crochet. It is designed to be worn during the summer hottest days when you don't feel like having anything heavy on or anything at all. Click the picture to go to the pattern page, and scroll down to find the Download button! Coupon code: SPRING21
March 1 – The Final Day
Check back tomorrow!
Having trouble, or is something not working? Check out the FAQ's page for assistance.